Press Conference Schedule
The press conferences and press releases are scheduled before and during the Festival, HIROSHIMA 2018. The exact date and time of each press conference will be posted on this page as soon as it is decided.
For more information or interview requests, please contact the Festival Office.
Schedule
Please note that conference places and content details are subject to change.
Aug. 27, 2018

HIROSHIMA2018 - Final Day

19:30 – 21:00
11:30 – 13:00
HIROSHIMA 2018 Press Conference Room at JMS Aster Plaza
Announcement of Competition Results and Press
Conference by the International Jury and Prize Winners
Press Conference by Competition Directors on 26th
Aug. 26, 2018

HIROSHIMA2018 - 4th Day

10:15 – 11:30
HIROSHIMA 2018 Press Conference Room at JMS Aster Plaza
Press Conference by Competition Directors on 25th
Aug. 25, 2018

HIROSHIMA2018 - 3rd Day

16:30 – 17:30
HIROSHIMA 2018 Press Conference Room at JMS Aster Plaza
Press Conference by Competition Directors on 24th
Aug. 24, 2018

HIROSHIMA2018 - 2nd Day

11:30 – 13:00
HIROSHIMA 2018 Press Conference Room at JMS Aster Plaza
Press Conference by Competition Directors on 23rd
Aug. 23, 2018

HIROSHIMA2018 - 1st Day

12:30 – 14:00
HIROSHIMA 2018 Press Conference Room at JMS Aster Plaza
Press Conference by the International Honorary President and the International Jury
July 17, 2018

16:15 - 17:00
The Municipal Government Press Club
Announcement of the International Jury Members and HIROSHIMA 2018 Programs
Jun. 4, 2018

11:00 - 12:00
Nippon Press Center, 9th floor (Tokyo)
Announcement of Selection results and Competition Titles
May 28, 2018

11:00 - 12:00
The Municipal Government Press Club
Announcement of Selection results and Competition Titles
May 9, 2018

14:00 - 15:30
Hiroshima City Cinematographic and Audio-Visual Library
Demonstration of Selecting Competition titles by the Committee and Interviews with the Committee Members
May 2, 2018

Announcement of International Selection Committee
Feb. 7, 2018

Announcement of the International Honorary President and the International Selection Committee Members
Photos from The 16th edition HIROSHIMA 2016
Selection Results Announcement
Press Conference by the International Honorary President and the International Jury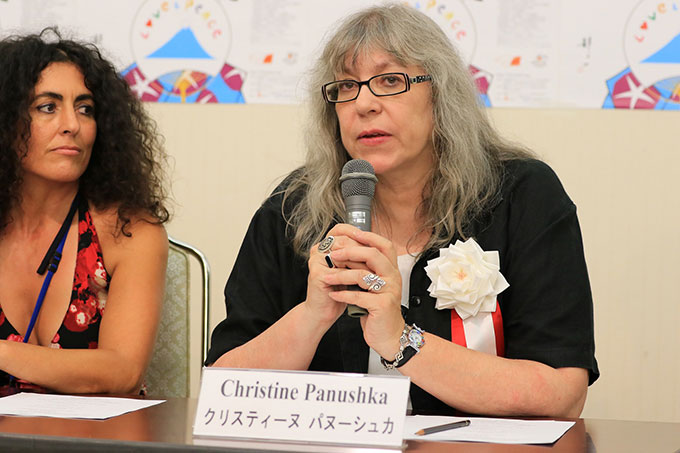 Competition Results Announcement
Press Conference by Prize Winners