International Selection Committee
Svetlana Filippova
Animation Film Director
(Russia)
Profile
Svetlana Filippova graduated from the Philological faculty of the Kazakh State University in 1991, and Higher Course of Scriptwriters and Film Directors in Moscow in 1997 with a specialization of a director-animator. She was studying at the studio of F. S. Khitruk, Y. B. Norstein, E. V. Nazarov and A. Khrzhanovsky. Svetlana Filippova is engaged in painting, book graphics, lithography, animation. She is a participant in numerous film festivals, art and book exhibitions in Russia and abroad. She won the first prize at the Association of Artists of Graphic Arts at the exhibition of Moscow Book Artists in 2005 for her illustrations for fairy tales of Ludmila Ulitskaya, and became a laureate of the All-Russian competition "Image of a book" in nomination "Best illustrations to productions for children and youth" for illustration of Ludmila Ulitskaya's tales, and laureate of "Man of book" prize in nomination "Best painter" (newspaper "Bookish survey" in frames of Intellectual literature fair Non-fiction) for illustrations to "Chevengur" by Andrei Platonov in 2008. She was awarded with prizes at international festivals in USA, Australia, Slovakia, Italy, Spain, France, Iran, Argentina, Brazil, Georgia and Russia for the animated films "The Night has come", "Sarah's Tale", "Three Love Stories", "Where dogs die", "Brutus" and "Mitya's Love". She has designed and illustrated "The Foundation Pit" and "Chevengur" by Andrei Platonov, tales of Ludmila Ulitskaya, "Dark alleys" by Ivan Bunin, "Lefthander" by N. Leskov, "The Gospel from John". Her works are kept in private collections in Russia, Germany and France.
Zbigniew Czapla
Director, Screenwriter, Animator, Painter, Graphic Designer
(Poland)
Profile
Graduated from the Faculty of Graphic Arts – Animated Film Studio of the Academy of Fine Arts in Krakow. Director and producer of experimental animation films such as: "Paper box" (2011), "Toto" (2013), "Strange Case" (2017) that garnered him numerous awards worldwide, including Animator (Poznan), Etiuda&Anima (Krakow), Krakow Film Festival (Silver Hobby Horse and Silver Dragon, 2017), IFF Message to Man (St. Petersburg), Ann Arbor Film Festival (USA), KLIK Amsterdam Animation Festival (Holland), IAFF ANIMATOU (Switzerland), Polish Film Festival (USA, Hollywood Eagle Animation Award) and many more. Awarded with a grant by Ellizabeth Greenshields Foundation (Canada), DAAD (Germany) and Ministry of Culture and National Heritage. Member of the Association of Polish Filmmakers and a president of the ASIFA Poland association. Film selector and jury member on many film festivals.
Lynn Tomlinson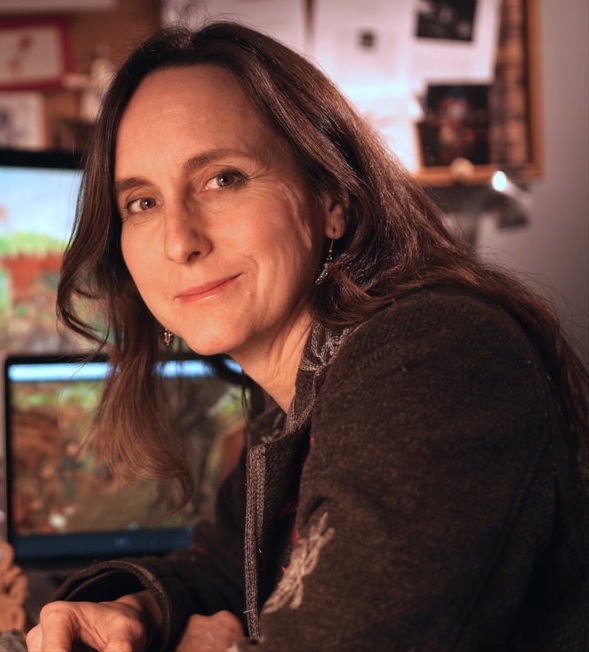 Animator, Director, Assistant Professor of Electronic Media and Film at Towson University
(U.S.A.)
Profile
Lynn Tomlinson is an artist, professor, curator, and award-winning animator who explores the intersection of animation with painting, sculpture, puppetry, and live performance. She has been working in animation since the late 1980s. Using tactile clay-on-glass and experimenting with painterly animation processes, she currently creates animated projects that investigate environmental and historical stories told from unusual points-of-view. She has received many grants and fellowships, including Independent Artist Fellowships in Media Arts from the states of Maryland, Florida, and Pennsylvania. Her animated films have screened in international animation festivals including Annecy, Hiroshima, Ottawa, AnimaMundi, and Tricky Women, and in numerous international, environmental and children's film festivals.
Tomlinson's creative work has been exhibited in one-person shows at Cornell University and the University of Delaware and in group shows at the Delaware Center for Contemporary Art, the Virginia Museum of Contemporary Art, and the National Gallery. Her 2014 film "The Ballad of Holland Island House" screened in over 30 international film festival, received First Place in Greenpeace's Postcards from Climate Change contest, and is included in the Education Department collection of the Museum of Modern Art (New York). Her 2018 film, "The Elephant's Song", an official selection at the Annecy International Animation Festival, has been screening around the world in festivals from Doha, Qatar to Hiroshima, Japan, receiving several Best of Festival, Best Animation, and Best Music awards. "The Elephant's Song" was chosen as 2019 Global Insights Stellar Award Winner from the Black Maria Film Festival, a Women in Animation award winner, and First Prize for Independent Film and Excellence in Music at the 2019 ASIFA East Awards.
Tomlinson has been a visiting artist at the University of Michigan, Bennington College, Tainan National University of the Arts, Bowling Green State University, Cornell University, University of Central Florida, Pratt, and many other universities. She has published articles in journals including Animation Journal and Animation Practice, Process, Production. She is an Assistant Professor of Electronic Media and Film at Towson University and lives outside Baltimore, Maryland. She is a member of ASIFA, the Society for Animation Studies, and the University Film and Video Association. Her current creative research project is a clay on glass animated full-dome film about Monet's Water Lilies.
Stefan Stratil
Animation Filmmaker, Lecturer at Webster Vienna Private University and Webster University St. Louis/USA
(Austria)
Profile
Stefan Stratil was born in 1963 in Vienna/Austria. He studied Experimental Design and Animation with Maria Lassnig at the University of Applied Arts Vienna, and received master degree in 1992. Stratil's short animations are shown at more than 70 film festivals, including Cannes, Berlinale, Rotterdam, Clermont-Ferrant, etc. He has been working on various commercials for TV and cinema, scriptwriting, illustrations and comic strips for international magazines, books and advertising. Since 2004, the President of ASIFA Austria (Association Internationale du Film d'Animation); ASIFA Treasurer and a member of the ASIFA Executive Board; Curator of Asifakeil, an animation-based art showroom at the MuseumsQuartier/Vienna; Lecturer of animation at Webster Vienna Private University and Webster University St. Louis/USA.
Hiroshi Onishi
Intermedia Artist, Professor of the Department of Information Design at Kyoto University of the Arts (Formerly known as Kyoto University of Art and Design)
(Japan)
Profile
Born in 1965 in Tottori City, Japan. One of the first graduates in the Film and Video Art Course at the Kyoto College of Art, studying with Toshio Matsumoto and Nobuhiro Aihara. After graduation, Onishi worked for Top Studio, a total processing studio in Osaka, and was involved in planning and directing corporate promotion videos, TV commercials, opening titles for TV programs, etc. He then worked for Soft Edge, a CD-ROM production company, where he participated in the production of "Cosmology of KYOTO – A visual mindscape of old Japan". After working for CG production company PD. Inc, and freelancing, he began his current position in 2002. Together with Keiichi Tanaami and Nobuhiro Aihara, Onishi established the Animation Course in the Correspondence Education Department at the Kyoto University of Art and Design in 2003, and served as the course director until 2013, overseeing both education and administration. He then moved to the Undergraduate Department, where he has been teaching a variety of courses such as visual production, animation production, media theories. He has also been involved in teaching animation at the Graduate School at the Kyoto University of Art and Design since 2014.
Executive Board Member of ASIFA-Japan (Association Internationale du Film d'Animation, Japan Branch), Member of Hiroshima International Animation Festival Project Team, Member of Culture Value Transmitting Expert Committee of Council for Kyoto Traditional Forest Culture, and Executive Secretary of Art Section of Mono-logy (monogaku) / Sense-Value Study Group.
Principle Film Works:
"Mechanism and Development of Animation" (2005, Correspondence Education Department at the Kyoto University of Art and Design)
"Animated Journey in Bali 2011" (2011)
"journeymation Article 9" (2016, United for Peace Film Festival, Special Jury Prize)
"journeymation 'Thanatology' " (2018, Nominated for the 73rd Mainichi Film Awards, the 12th Yonago Eizo Festival, Grand Prize)
Principle Publications:
"Arts of Animation Film Making and Teaching" in Toji Kamata (ed.), Exploration of Mono-logy (monogaku), Sogensha Inc., 2009.
"Abstract of a Ship's Log: Three Art Exhibitions held for an Interdisciplinary/Historical Study on the Distribution of Pirated Products" in Shigemi Inaga (ed.), Pirate's View of the World History – A Reversed Perception of the Order of Things, Shibunkaku Co., Ltd., 2017.
"Spirituality and Reincarnation Hidden in Media Technology" in Shigemi Inaga (ed.), Utsushi and Utsurohi – Metempsychosis and Passage: Recipients of Transcultural Migration and Haptic Transfigurations, Kachosha, 2019.
※ As for HIROSHIMA 2020, the selection will be held by Hiroshi Onishi, one of the international selection committee members, as well as by those surrogates from Japan (Kotaro Sato,
Makiko Nagao, Sayoko Kinoshita), to whom our international selection committee delegated.